DISPLAY FIREWORKS – SHELL DISPLAY ASSORTMENTS

Our pre-designed display assortments include a wide variety of high quality Oriental, Italian, Spanish and American-made Products. Designed to fit any budget, our assortments incorporate several shell varieties with multiple effects, reports and break patterns, including a number of special effect canister and multi-break shells. Each assortment includes safety and firing instructions, free portfires and mortars on loan at no additional charge.
MULTI-SHOT GROUND DISPLAYS – "CAKES"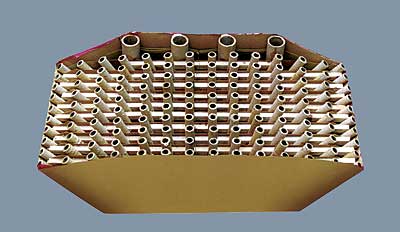 Commonly known as "Finale cakes," "Barrage Units," or "Multiple Box" Ground Displays, these individual pieces can perform solo or tied into a multi-dimensional fireworks program producing a brilliant wall of fire or "grand finale." The series of tubes set in a rectangular arrangement surrenders the nickname "cake" for most types of Multi Shot Ground and Shell Displays. Pyrotechnicians often utilize several sequences of Multi Shot Displays because of their duration, special effects, rapid firing intensity, and for their brilliant multiple color and changing sequences.
The ease of firing an entire sequence of multiple shells and effects on a level surface without burying a single mortar also attributes to the popularity of the Multi Shot Display. In many cases, the Multi Shot Display unit can be safely located at a closer proximity to your audience (per NFPA Code 1123) as compared to the safety distance required for single mortar units.
FAN & ANGLE CAKES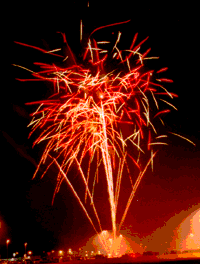 Premier Pyrotechnics, Inc. is proud to offer a very special line of Multi-Shot Ground and Shell Displays commonly termed "Angle Cakes." An Angle Cake is designed to fire simultaneously an arrangement of shell sequences in a horizon or angle effect. In most cases the firing of shells forms a "V" effect with a center arrangement firing straight up the middle part of the "V" formation. The spread of shell sequences in angle cakes broadens your display front and often lends itself in the development of "crossing" cake and ground display patterns. We are very excited that our customers will thoroughly enjoy scripting angle cakes into their next fireworks program, and receive rave reviews from their audiences!
OTHER GROUND DISPLAYS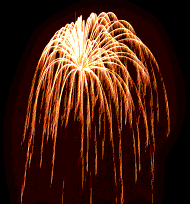 Premier Pyrotechnics carries a large assortment of Roman Candles with numerous effects ranging in size from 1.5″ to 3″ in diameter. For those interested in creating brilliant waterfront and duration frontage sequences, we offer a variety of 2″ – 30 second fountains, 60 second waterfalls, color wheels and set pieces custom designed for your specific venue.