A Special Invitation      Click here for complete itinerary (PDF)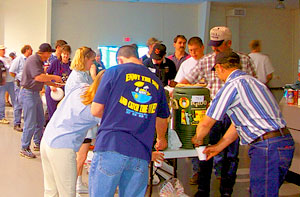 Premier Pyrotechnics, Inc. is pleased to invite you to our spring Shooter's School. We are offering our Shooter's School as follows:
Saturday, March 3, 2018
 – Bear Bottom Resort
 • Lake Road 5-36
 • Sunrise Beach, MO
Saturday, April 14, 2018
 – Conway Event Center

 • Conway, AR
Nearby hotels: Hilton Garden Inn, Country Inn & Suites by Radisson, Home 2 Suites by Hilton, Comfort Suites, Hampton Inn
Saturday, April 21, 2018
 – Royal River Casino

 • Flandreau, SD
Saturday, April 28, 2018
 – Jackson County Jr. Fairgrounds

 • Cottagesville, WV
We hope you'll find these locations convenient. Call 888-647-6863 if you have any questions.
We feel that your attendance at this school is one of the most important steps you can take to insure the safety and success of your display. Whether you are an organization that hand fires your own display or has our company present a complete turn-key multi-media pyromusical, you will benefit from this intensive hands-on school. From the very basics, safely hand firing three inch shells to wiring the most spectacular finales ever imagined, you get a first-hand look at the specifics. We've also arranged for testing from the state fire marshal's office if applicable.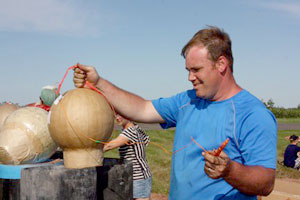 The total cost of attending, which includes lunch and dinner is $50 per person. The only thing you're required to bring to class is a desire to learn the art of safely displaying commercial fireworks. If you have safety gear such as fire-proof coat and pants as well as head, ear, eye and hand protection you should bring it along as well.
For the benefit of planning please select a registration method below, indicating which school you will be attending. We look forward to seeing you at one of our schools.
If you are interested in becoming a fireworks shooter and would like to join a shoot team, there will be time from 8:15 am to 9:30 am to meet with the local salesperson from your area. Click here to find your local area salesperson.
3 WAYS TO REGISTER…
1 USE OUR ONLINE SHOPPING CART.
 The Cart is for registrations using a credit card. Your card number and expiration date are sent to us via a 100% secure SSL server. Select the School you want to attend and the number of registrations. Then click Continue. If you are using a phone, please rotate to landscape after clicking Continue for better legibility.
Shooter's School Registration, $50 per person
2 DOWNLOAD A PDF OF THE REGISTRATION FORM. Right click here, then select "Save As" to save the form to your desktop. Complete the form, print it out, enclose your payment and mail to the address shown on the form. This form may be used for either check or credit card payments. Print an extra copy for your records.
3 COMPLETE THE FORM BELOW AND CLICK THE SUBMIT BUTTON. Then call with your credit card information or mail a check to us.
Payment instructions will be shown after the Submit Registration button is clicked.